Meet The Maker
The Diamond Setter is an independent family-owned business located in the beautiful Royal Tunbridge Wells, Kent, specialising in diamond and gemstone setting. The Diamond Setter is a contemporary jewellery label offering luxury jewellery, designed for your everyday wear. They are also an expert in bespoke jewellery pieces and the partner of many high street jewellers carrying out their jewellery repair and restoration works.
"The Diamond Setter is the gold standard in gemstone setting" - Professional Jeweller
What can they do for you?
Create bespoke pieces to mark a special occasion
Co-design your engagement and wedding rings
Jewellery remodelling - old pieces that have been handed down and you wish to be made into a new piece
Various jewellery repair and maintenance services
Professional ear piercing services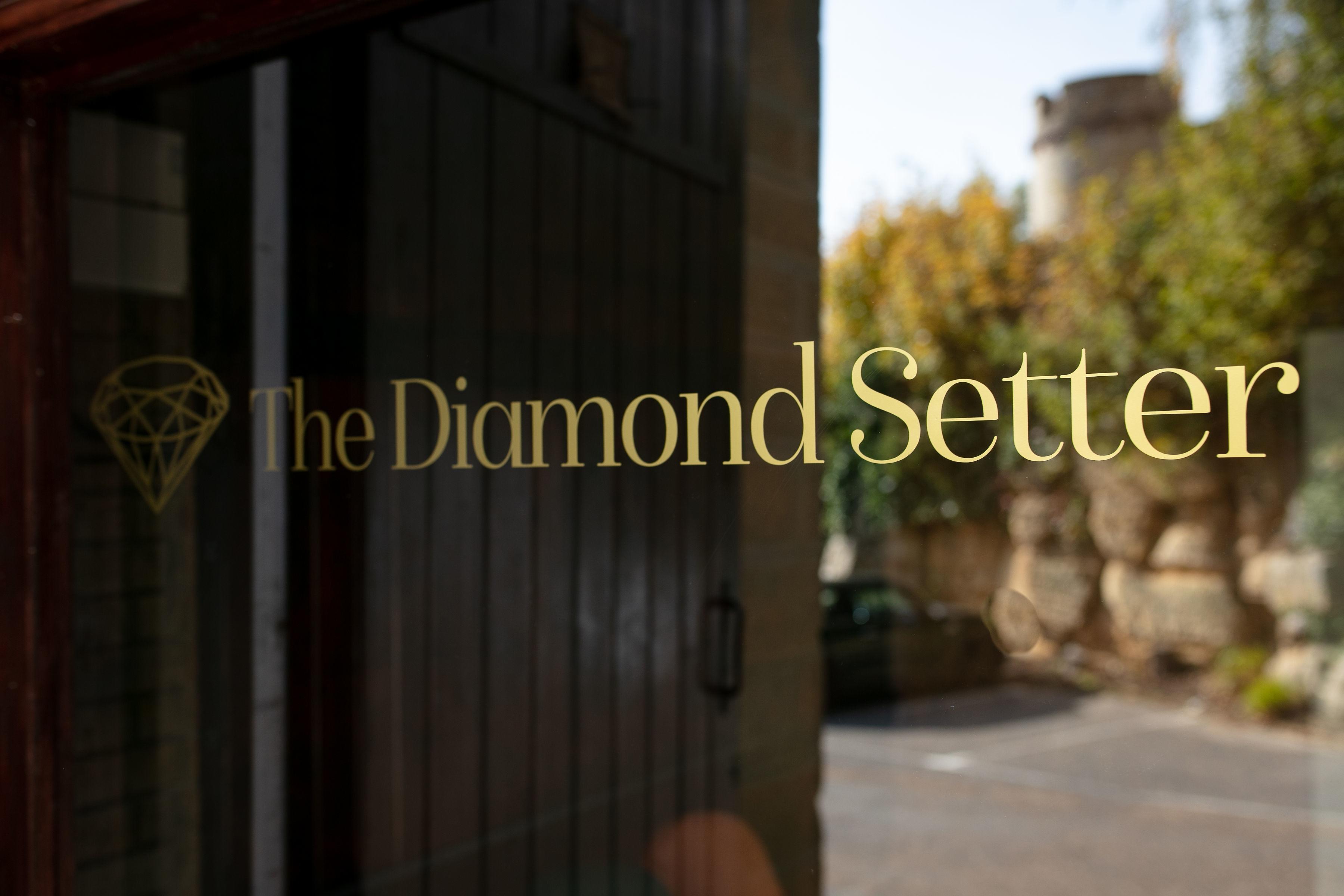 Gavin and Lorraine returned to England in February 2020 to reunite family roots, but struck by the crisis of 2020. Like most people, the pair lost their job prospects and with companies halted hiring, they had to evaluate and ground themselves to what is essential and what they have built over the years. Digging into courage, a slither of light during the dark times appeared. Founded in the middle of a global pandemic, The Diamond Setter is a brand anchored on honesty and positivity.
The inspiration behind The Diamond Setter is to create an unintimidating jewellery shopping experience accessible to everyone. Promoting unique handmade jewellery, designed and made in England, focusing on skills, craftsmanship and dedication to each and every jewellery piece. At The Diamond Setter, you are speaking directly with the maker - no middle man.
Gavin is a highly experienced jeweller as well as a diamond and gemstone setter with nearly 20 years bench experience. From years spent in Hatton Garden creating jewellery for renowned brick and mortar high street brands, working for Rolex repairing watches for high net worth individuals, discovering origins and story of gemstones in South East Asia and all the way down to New Zealand as a master jeweller and diamond setter, Gavin has a solid foundation in creating bespoke jewellery. He has a love affair with diamond and stone setting, the core of his craftsmanship.
Lorraine believes that everyone should have access to fine jewellery, that there should be something for everyone. Jewellery shopping should not be daunting and instead, an experience allowing you to be yourself. With years in customer service, her eyes are focused on customer's experience.
Design
The pair draws inspiration from their travels across three continents where their ethos are shaped by both beauty and challenges of everyday living. Gavin's attachment to the ocean is a driving force in his creativity whilst Lorraine dwells on the feminine touch and comfortable luxury.
Handcrafted Jewellery
Quite simply, each piece is unique. Although the pattern, the size, and other components look the same, there will always be something different. It's like a thumbprint, it only belongs to you. The Diamond Setter's special customisation feature on the website reinforces this concept. For the first time ever, you can choose the placement of your gemstones with a touch of your finger, and without an extra fee.
The Diamond Setter's humble workshop is located in the beautiful Salomon's Estate in Royal Tunbridge Wells, a borough not far from London where modern life blends in with the town's natural beauty. With minimal jewellery display, you will find the studio is inviting you to look behind the scenes and inspect life on the bench.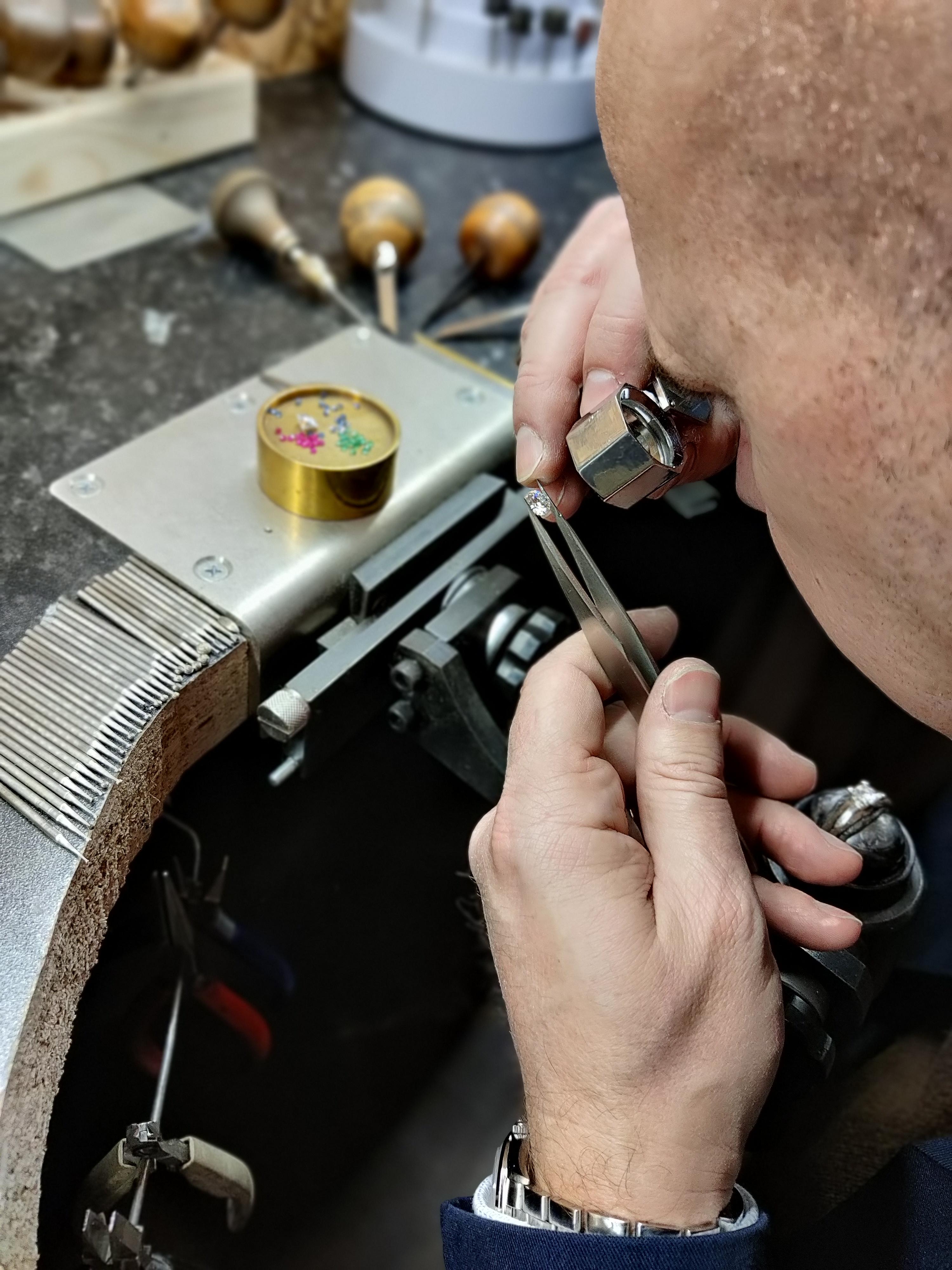 Sustainable Jewellery
Creating handmade to order jewellery means we do not have stocks gathering dusts and waiting to be pushed to our customers.
Operating on a small production means unnecessary waste are eliminated which are common in mass produced jewellery business. The Diamond Setter works with precious metals supplied by merchants whose commitment to the environment is to only use recycled raw materials where possible and limit their impact on environment. Their discipline and processes adhere to UK's environmental regulations which are among the stringiest in the world. A closed recycle production is practiced in all aspect of the operation, including keeping of lemel and scrap. No work is outsourced enabling us to support local talent.
From conception to delivery, it is all done under one roof, crafted by talented artisans. Your jewellery comes in an eco-friendly luxury box finished with a beautiful matt black leatherette, made of FSC® (Forest Stewardship Council) certified material. Our sustainability does not compromise the quality and luxury of our unique handmade jewellery.
P: 01892 458042