Jewellery designer using CAD
Jewellery designer using CAD
As a jewellery designer and maker, we seek innovation and embrace new technology. We believe in continuously improving and creating a better experience for our customers.
We are very proud to offer our CAD services and eliminate the "risk" element for a client who may struggle to envisage what the jewellery will look like. Since it is all done onsite, we combine our knowledge of creating with designing. It goes hand in hand because we achieve a realistic concept even before production. Consequently, clients will see what they will get before investing time and money.
How about codesigning your piece with The Diamond Setter and viewing it in 3D?
3D models are essential in modern jewellery design. Also known as Computer-Aided Design, it creates a 3D digital model of a jewellery piece. Viewing sketches on paper allows a one-sided view of the jewellery and although it has been the traditional way of creating a vision, a 3D view will give a better representation of the design and for customers to really absorb what the finished article will look like.
So how does it work?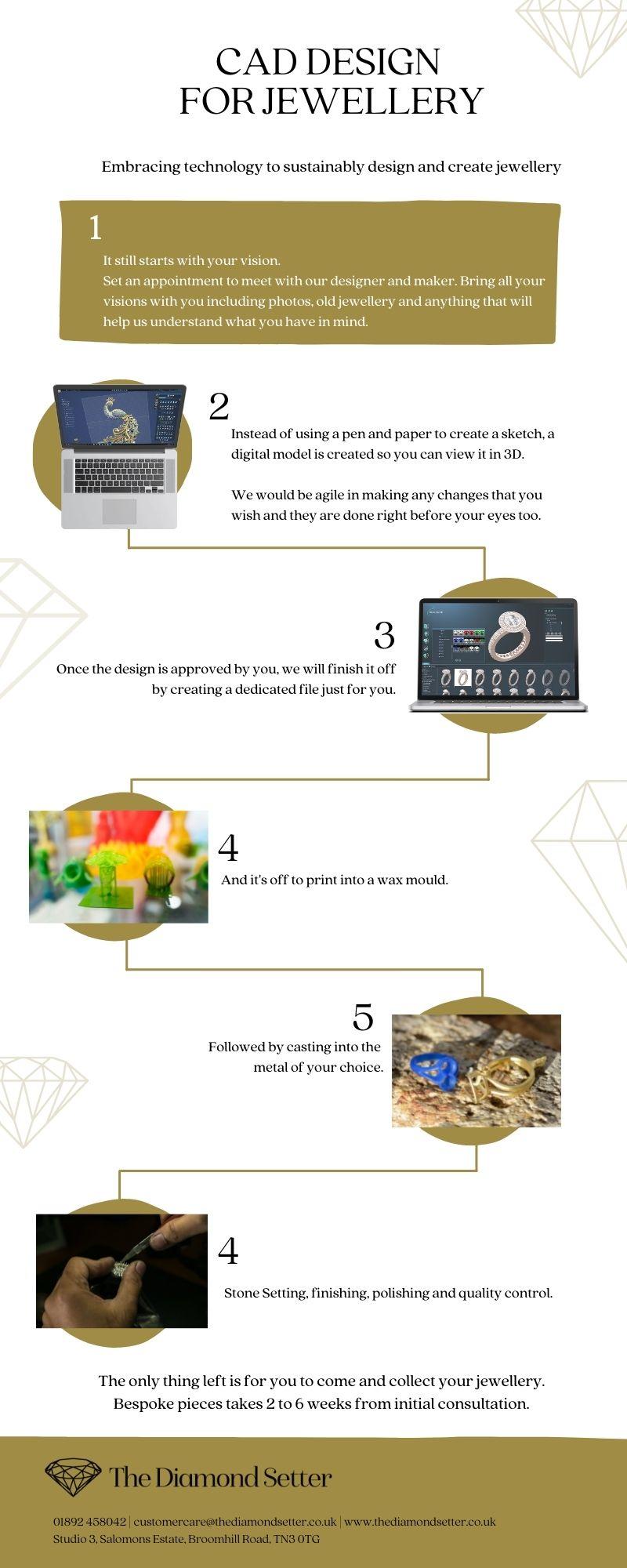 What are the benefits of CAD to your bespoke jewellery?
Time! As you know, this is probably one of the most valuable resources for you as our customer and for us. With CAD, changing the design can be achieved quicker and more efficiently.
Precision. However, elaborate and complicated the design is, CAD provides fully geometrical accurate jewellery model from beginning to end.
Combining with traditional skills. Because the finishing including stone setting can only be done by a talented master jeweller, the jewellery is still in the hands of a capable master jeweller and diamond setter. These are talents that we, fortunately, have onsite.
Are you ready to step in the exciting journey of CAD bespoke jewellery design?
Whether it is remodelling a new piece or creating a new bespoke piece, we will guide you from start to finish. Simply get in touch.