Looking for that perfect diamond and gemstone setting? When looking at jewellery, the prime focus is normally the stone but have you ever wondered, what holds the stone and what physical characteristics do you notice to ensure the stones are perfectly secured whilst maintaining a beautiful aesthetic of the jewellery. Here, you will find how fascinating and how intricate diamond and gemstone setting is.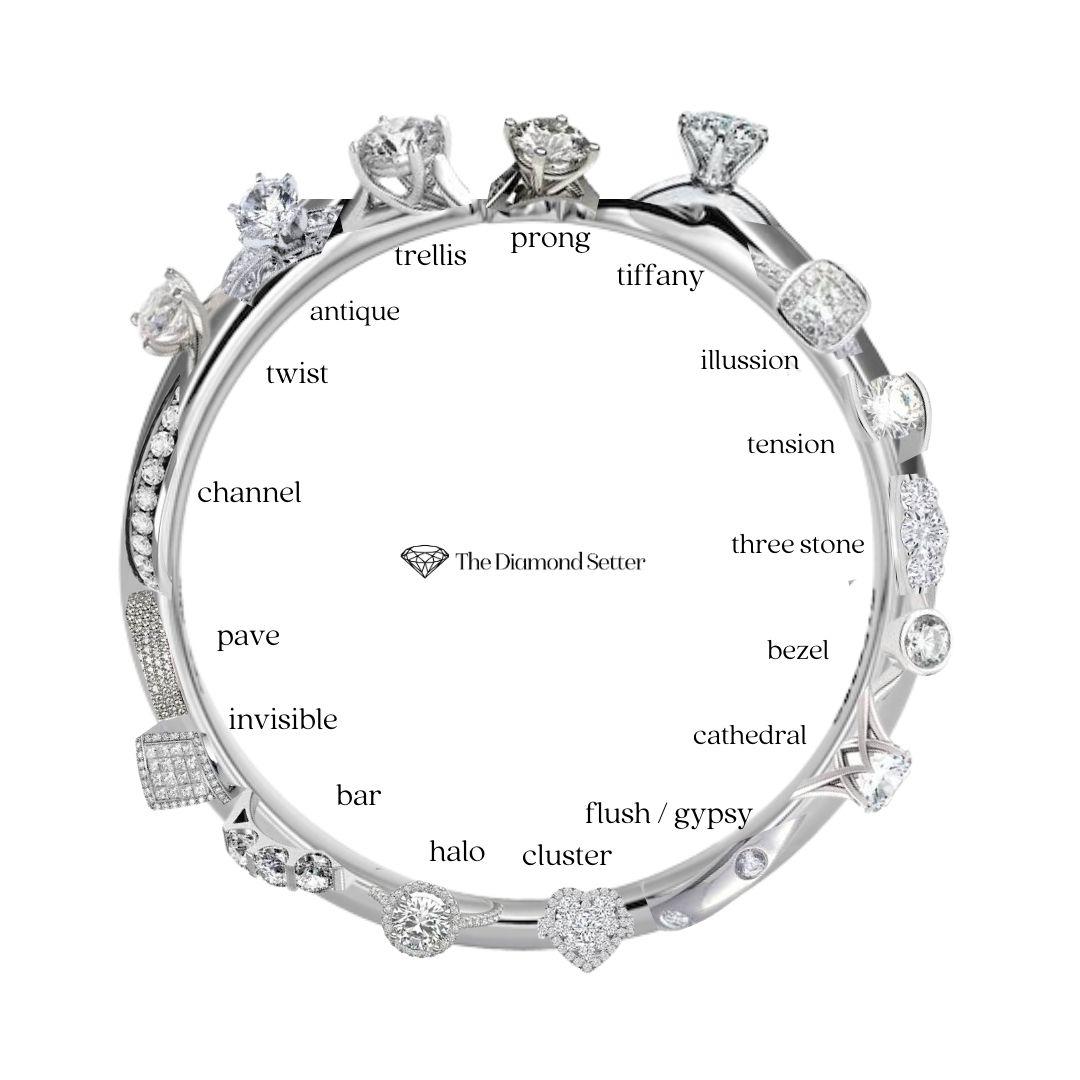 Prong Setting or commonly referred to as the claw setting is the most common setting you will find. This type of setting emphasizes the diamond or gemstone in a piece of jewellery. A single diamond set in a traditional, plain mount usually with four or six prongs. This is a very traditional engagement ring setting and can be personalised with diamond bands, or a ring guard or wrap, that guards and frames the larger diamond to make it more prominent.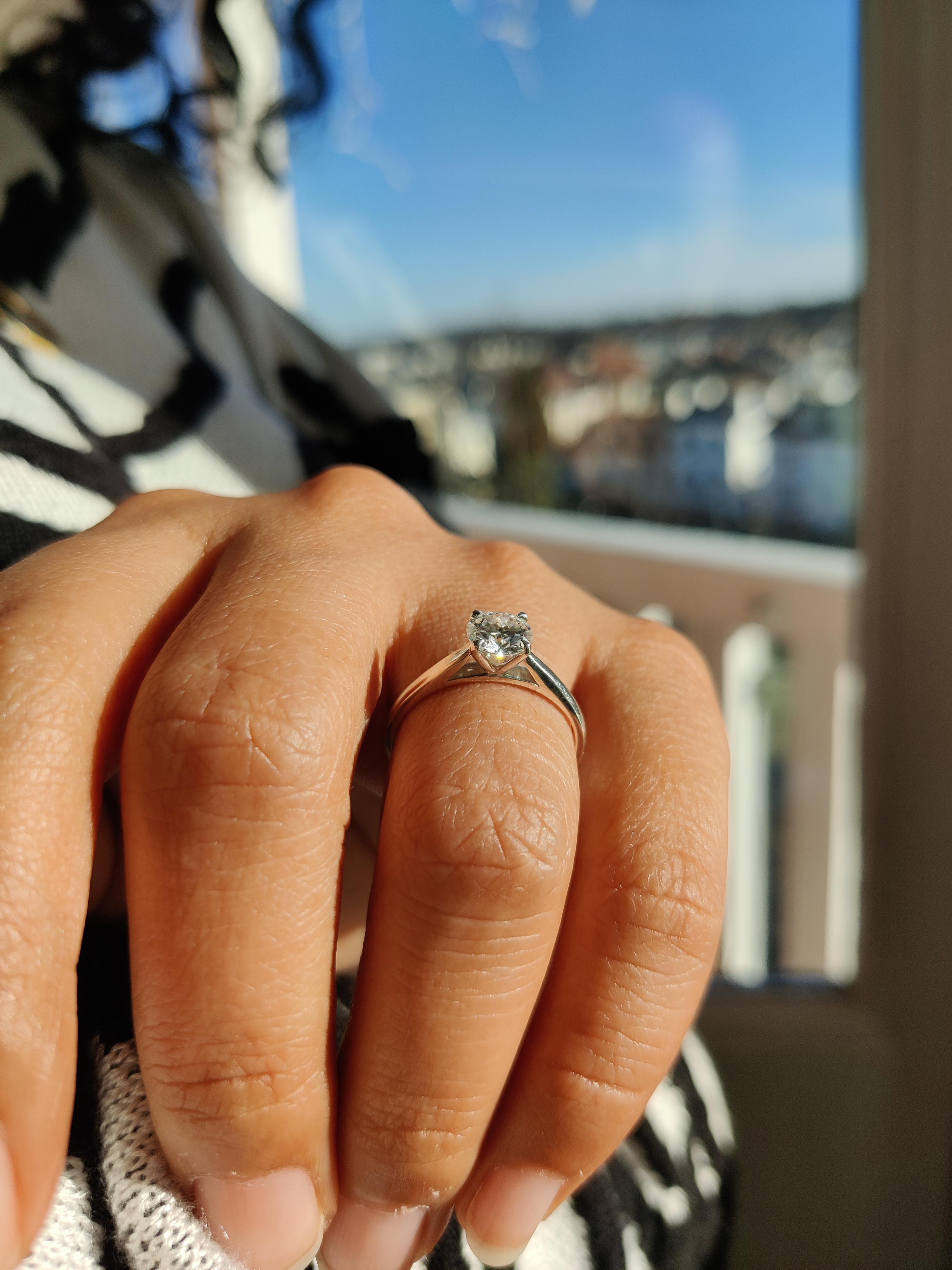 Channel Setting is most frequently used for wedding and anniversary bands. A Channel setting will set the stones right next to each other with no metal separating them. In a Chanel setting, the outer ridge of metal is then worked over the edges of the stones. It helps protect the girdle area of the diamonds better than a prong setting and provides a smooth exterior surface. It is glamorous and stylish and secures the gemstones.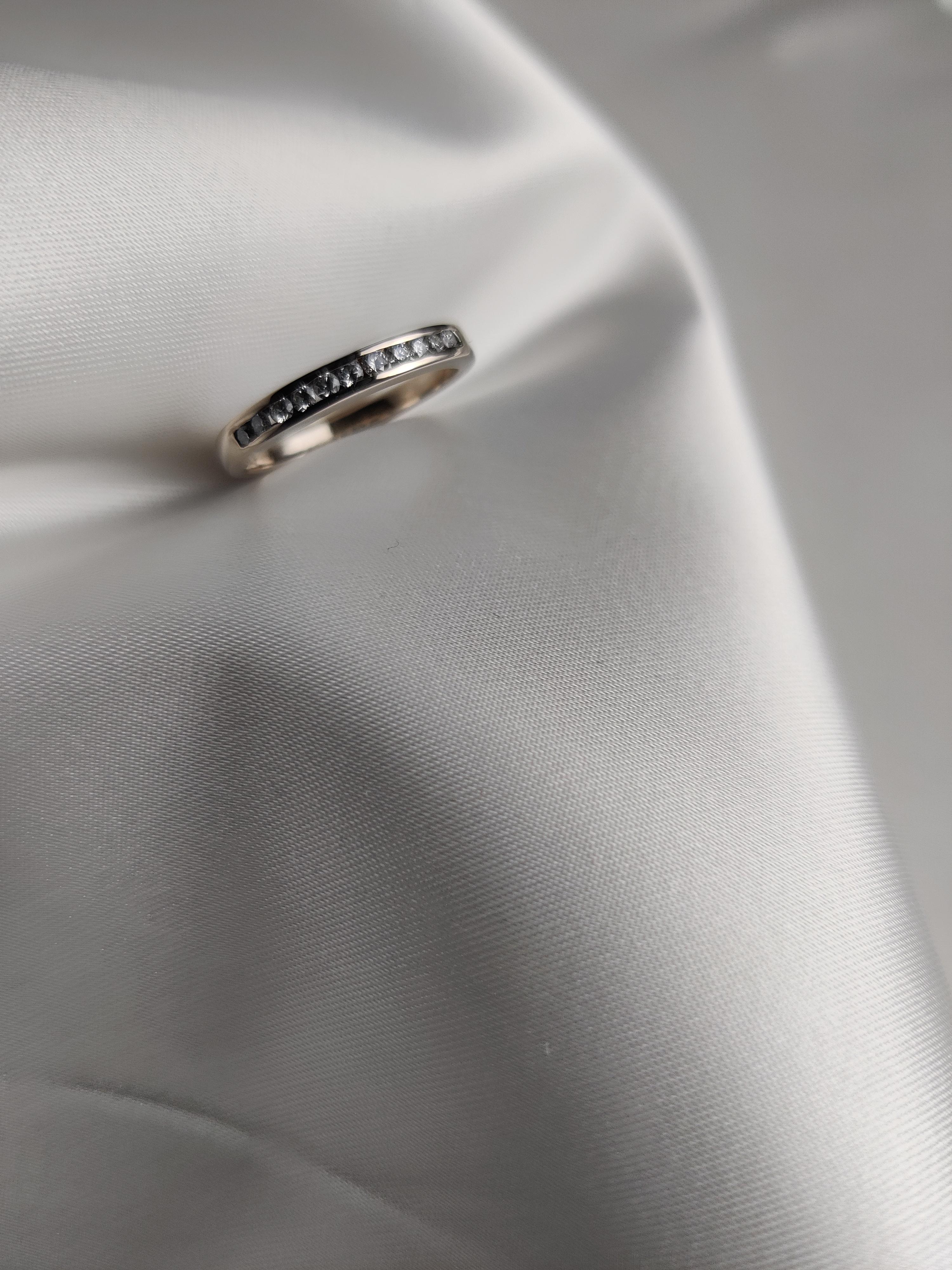 Bar Setting is also most commonly used in anniversary and wedding bands but can also be seen in bracelets and necklaces. The Bar setting type includes a band of diamonds where each stone is helped by a long thin bar shared between two stones. The bar setting combines a contemporary and classic look. The diamonds are exposed on two sides so you can often see more brilliance of the diamonds.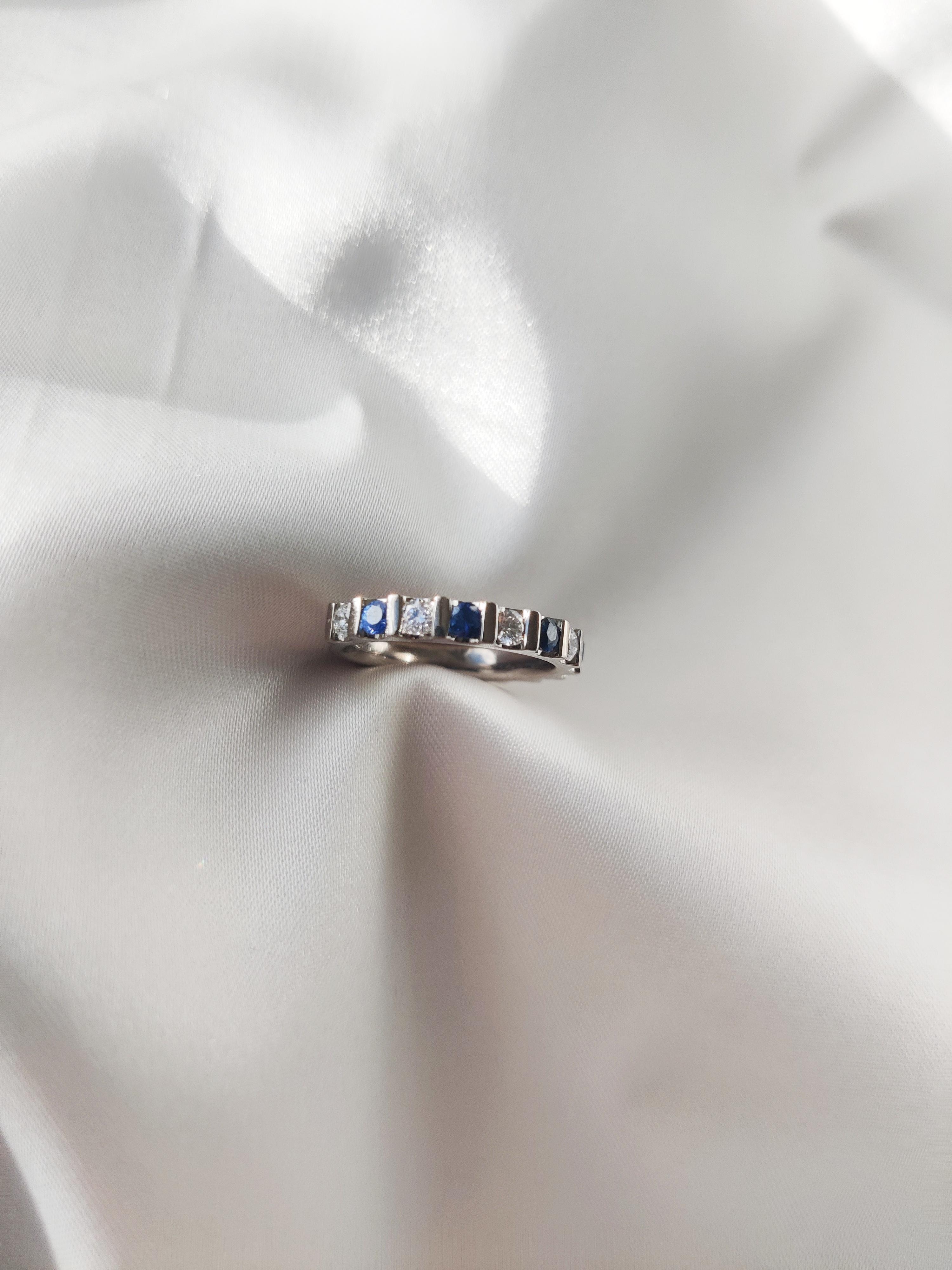 Bezel Setting or Rub Over Setting is when a rim holds the stone and surrounds the gem. Bezel settings can have straight edges, scalloped edges or can be moulded into any shape to accommodate the stone. The backs of the bezel settings can be opened or closed. Warmer coloured stones look stunning when bezel set in yellow gold.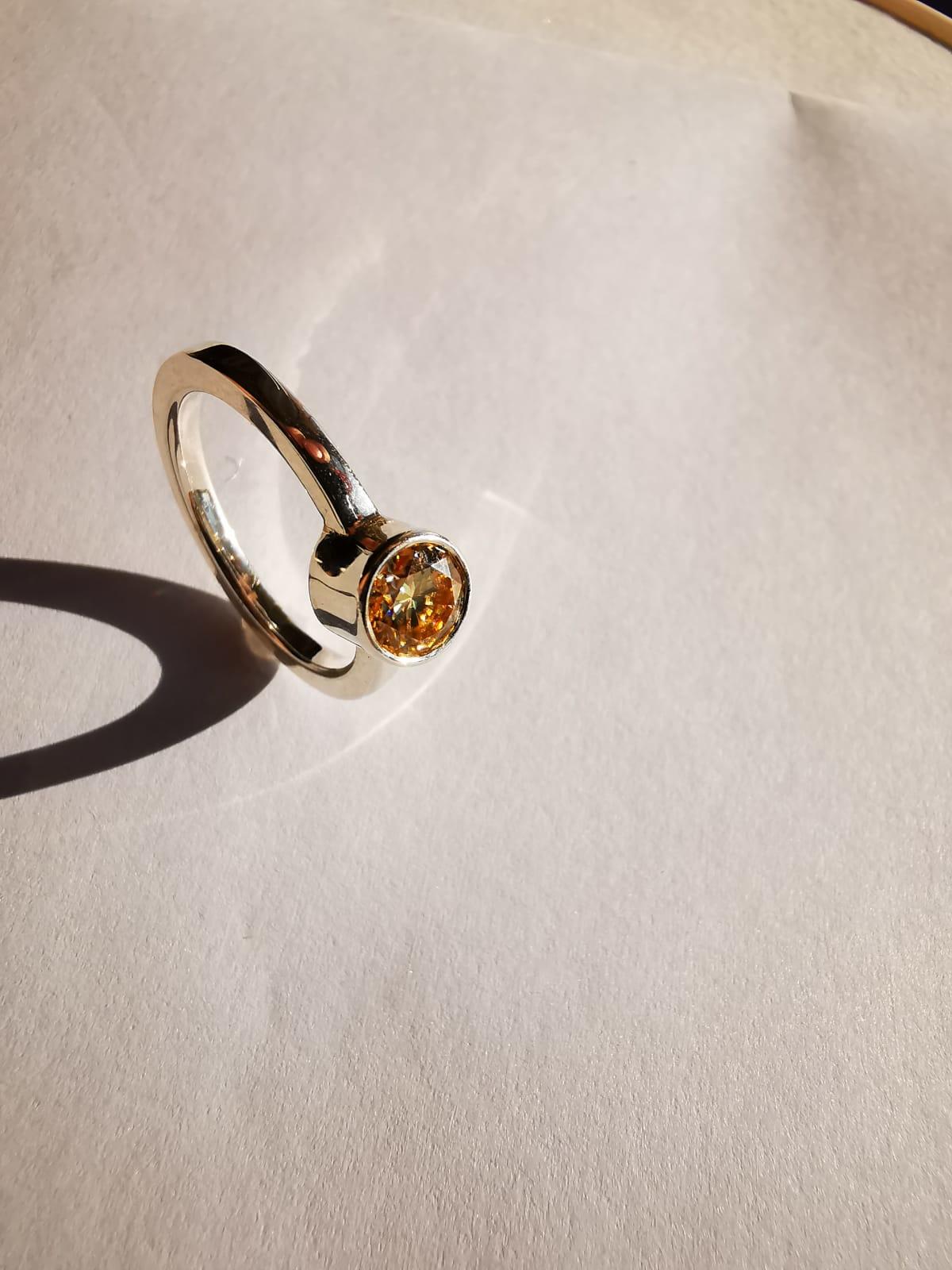 Gypsy Setting is when one continuous piece gets thicker at the top. The band is shaped like a dome and the stone is inserted in the middle and flush with the band. No prongs can be seen in this type of setting which means the look is smooth and clean.
Tension Setting is held in place by the pressure of the band's metal, which is designed to squeeze the stone. The result is a highly contemporary, fashionable look and can be used to set any jewellery. It has a modern and contemporary look in which the diamond appears to be suspended. This type of setting allows the diamond to be seen in full view and usually easy to clean around the stone.
Illusion Setting is normally composed of smaller stones, usually in princess cut and are set next to each other, held from below to give the illusion of a larger diamond. The setting is more intricate than others and can create a visually interesting piece. This setting can also be a small diamond surrounded by patterned precious metals which provides the illusion that the centre stone is bigger. It makes a unique and intriguing ring.
Cluster Setting is when a centre stone is surrounded with several smaller stones. It is designed to create a beautiful piece of diamond jewellery from many smaller stones. The cluster setting provides the appearance of a larger stone. Sometimes, the cluster is formed into shaped or designs to enhance the look of the ring. This intricate piece is often more unique and adds a timeless characteristic.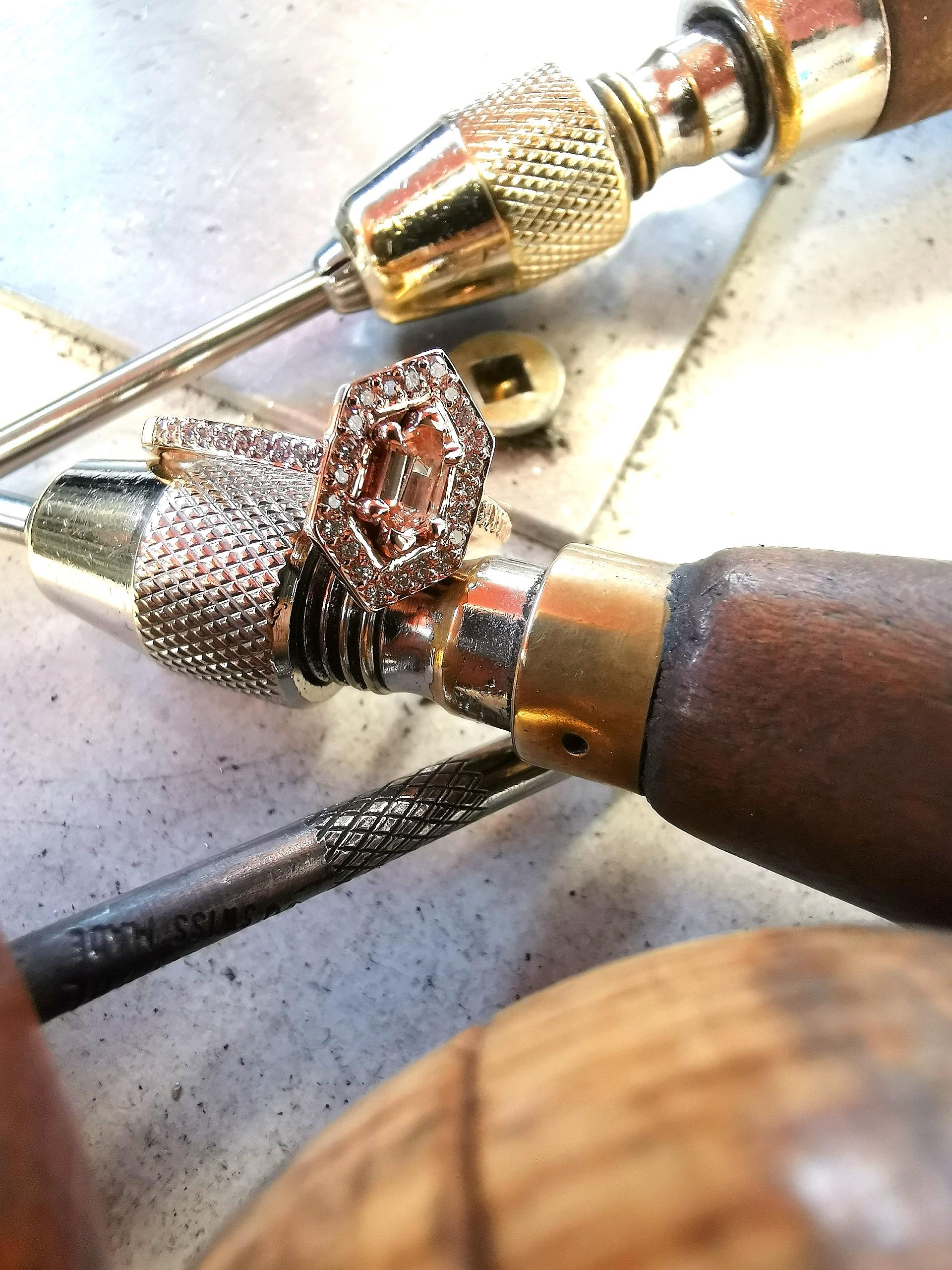 Diamond and gemstone setting is a skill that not every jeweller possess. At our studio in Salomons Estate, we are very fortunate to have an in house jeweller and diamond setter who also happen to be our co founder, Gavin. Gavin has 20 years of bench experience in the UK as well as internationally. He was referred by the Professional Jeweller as "setting the gold standard in gemstone setting". He firmly believes that goldsmithing and gemstone setting are skills that should be passed be passed on from generation to another and certainly a legacy to build on.
To book your appointment with our diamond and gemstone setter, simply choose a date and time.
Written by