Engagement ring, wedding ring, eternity ring - the best hand jewellery problem to have! The short answer is, there is no right or wrong way of wearing your bands. It is completely up to you. But here are some tips on how to showcase your beautiful treasures.
It all starts with the engagement, an exciting life milestone steeped in tradition and etiquette. You'll find that most people wear their engagement ring on the outside, or on top, but there is nothing wrong with becoming non-traditional and turning it around. Doing so could mean, the rings are stacked better in that order or it has a symbolic meaning to you.
Why are the rings worn on the left hand?
Let's take you back to the Ancient Egyptians who believed we had a vein leading from our left ring finger to the heart. This means, wedding ring on the inside guarantees it's as close to your heart as possible.
Some might wear their rings on the right hand?
Traditions often dictate our decisions and way of life. In the West, it is very common to wear their wedding rings on their left hand. But if you take a look at Northern and Eastern Europe, as well as India, Greece, Spain and Portugal, it is more common to wear their rings on their right hand.
Wedding Ring First, then engagement on top?
If you are like Lorraine, our cofounder who likes to stack her rings on the same finger, you wear your wedding ring first, followed by your engagement ring. If you going to follow this, make sure to remove your engagement ring before the wedding ceremony. Wear it on your right hand and once you have exchanged vows, slip your sparkler back on. There is magic in that... the feeling of completion.
Receiving your eternity ring
First off, what are eternity rings and when does one receive such a beautiful and classy piece? Eternity rings to mark a milestone in a marriage or partnership. Anniversaries are often the perfect occasion to gift a ring studded with diamonds or gemstones. However, the birth of the firstborn is also considered to be one of the perfect time to show one's enduring commitment.
Eternity rings are known as the 'formal dress' of a woman's jewellery. It is usually a solid band set with gemstones or diamonds all around it. Half eternity rings are just as stunning but the bottom half is plain metal. Some prefer this style as it is more practical.
The proper way to wear all three is not well defined. However, it is traditionally suggested to wear the wedding ring first, the engagement ring in the middle and finally, the eternity ring.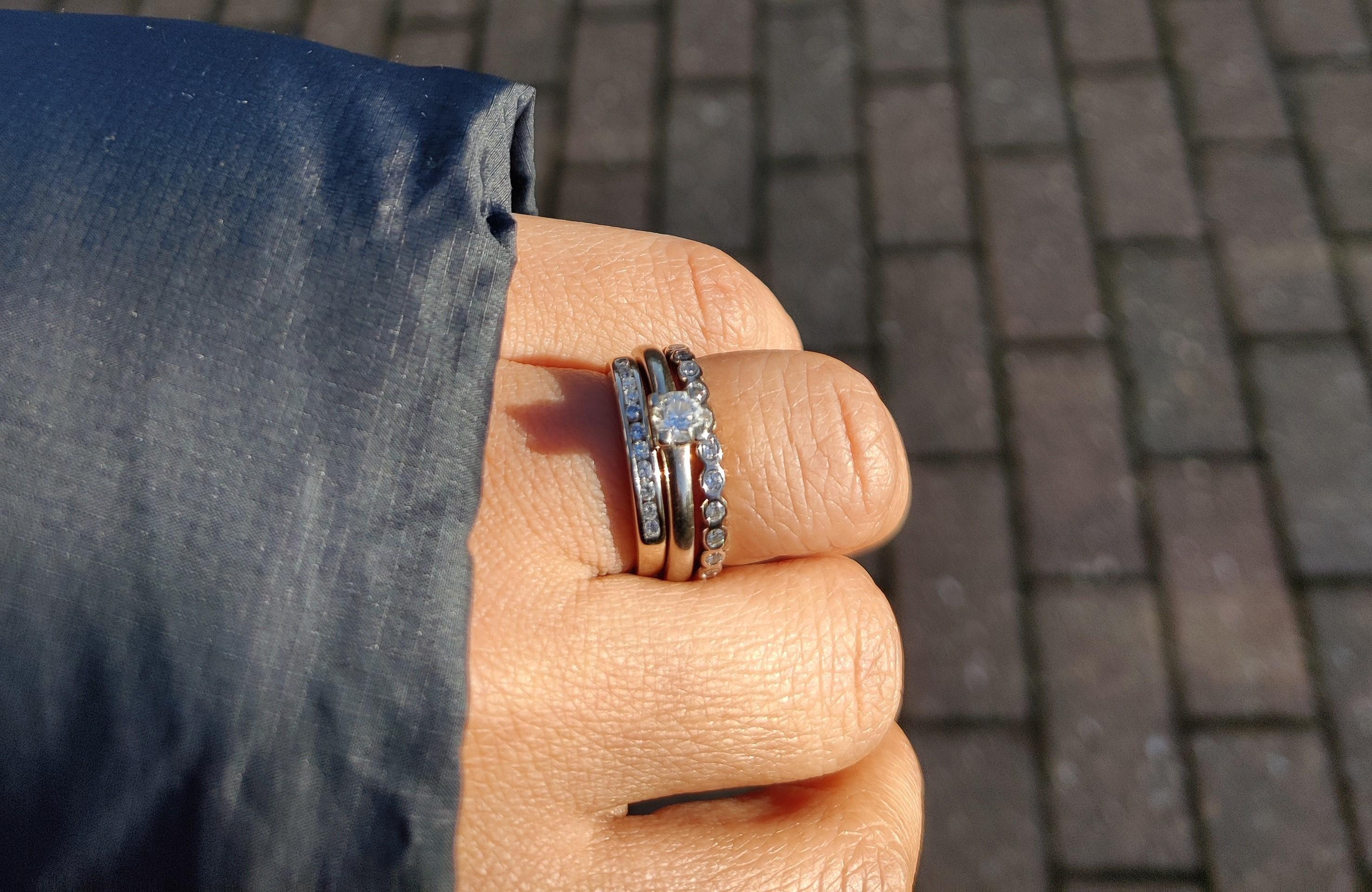 When some ring styles are somewhat wider than others, it could be tricky to stack all three rings. Therefore, arranging them in a way where it is comfortable becomes a priority.
Tell us how you stack your rings!
Written by: Lorraine Marsh