Christmas is just around the corner and the time to pick gifts for your loved ones is upon us. After a stress-filled year, spreading joy is going to be as important as ever, so choosing a gift that will mean the world to someone may just save their 2020. At The Diamond Setter, we are fortunate to have a jeweller and diamond setter inhouse, which means, all our handmade jewellery created from recycled gold and silver are crafted under one roof.
Here, we share five jewellery gifts that will always be popular at Christmas:
1. Silver jewellery
Without a doubt, budget for Christmas shopping may have shrunk for some of us. Silver jewellery is a great option because not only it is classed as a precious metal, there are also some amazing designs ranging from earrings, rings, bracelets and necklaces. At the Diamond Setter, we only use recycled silver. Recycling precious metal cuts down CO2 emissions by ⅔ versus mined silver. It is better for the environment, reduces water usage and reduces other environmental impacts. Because we only create jewellery when there is an order, this means, there is no unnecessary production and waste.
2. Personalised jewellery
Personalising a jewellery is not just limited to engraving and stamping. For the first time ever, you are in charge in choosing the number and the location of your desired gemstones. Simply use our jewellery personalisation tool on the website to create a truly unforgettable jewellery present.

3. Pearl jewellery
If you're looking to introduce or add a stunning piece of jewellery into the life of your loved one, a classic pearl necklace, pearl earring or pearl bracelet will always be memorable. With optimum elegance, your loved one will just glow wearing one of our creation.
4. Dog tag pendant
Unisex jewellery gifts are always tricky to find. Do you feel you always get stuck on this? A luxury take on a dog tag pendant adorned with gemstones or diamonds is a great option and one to keep for life. Choose silver or gold to suit budget and taste.
5. Signet ring
Our very own Signet Ring with black and white diamonds depicts night and day, and makes a great jewellery present for that special someone who is always there for you.
The Diamond Setter understands that bringing cheer during the challenging time will make a difference to people's wellbeing. Hence for every purchase of jewellery, we are donating a gift to children who are victims of domestic abuse who may not otherwise receive a gift for Christmas. You can learn more about the Giving Tree Gift here.
And we are also rewarding you for every jewellery purchase you make. Earn 5% back with your purchase! Let us wrap that jewellery present for you and ship them anywhere in the UK for FREE.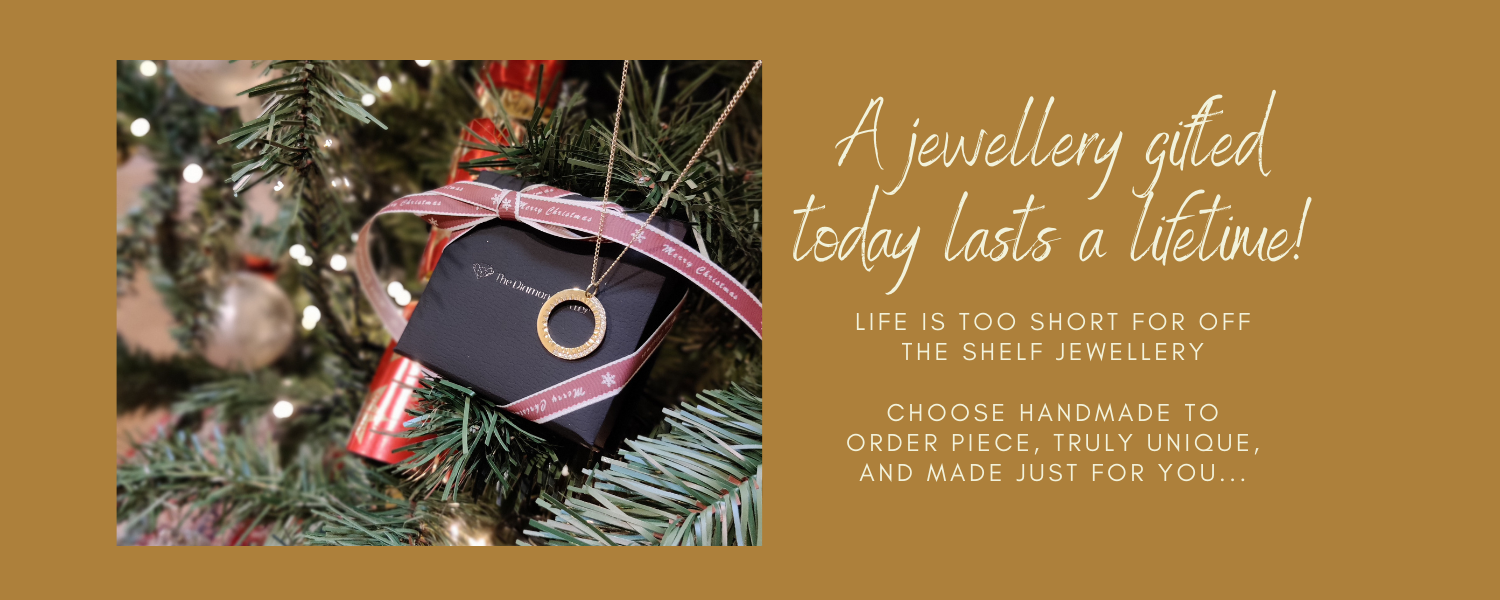 Our chat box is also available everyday from 9 am to 5 pm to assist you in designing and picking your jewellery present. We can also facilitate Klarna payments where you can pay in full up to 30 days later or split the cost into monthly payment. To start your jewellery shopping experience, here's some of our handpicked jewellery gift for Christmas.